Главная

Безопасность

Бизнес

Вебмастеру

Графика

Игры

Флеш игры

Интернет и сети

Мультимедиа

Образование

Рабочий стол

Система

Текст
Переводчики
Редакторы, просмотрщики
Шрифты
Другое

Реклама
Поиск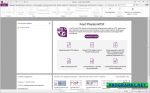 | | |
| --- | --- |
| Разработчик | Foxit Corporation |
| Windows | XP, Vista, 7, 8 |
| Интерфейс | Многоязычный (в т.ч. Русский) |
| Лицензия | Trial |
| Цена | $199.00 $129.00 |
| Дата обновления | 10.03.2015 история обновлений |
| Дата добавления | |
| Загружено вчера | 23 |
| Загружено за 7 дней | 182 |
| Загружено всего | 31103 |

Foxit Phantom PDF
- программа для просмотра, редактирования и создания PDF документов. Она является отличной альтернативой для известного Acrobat Reader за относительно низкую стоимость. Основными преимуществами являются ее маленький размер, быстрый запуск, высокая скорость создания PDF-документов. С помощью этой программы вы сможете быстрое создавать PDF документы, в сравнение с другими PDF утилитами, сливать и разделять PDF документы, удалять и вставлять новые страницы, создавать электронные формы и примечания. Программа позволяет конвертировать почти все документы, которые могут быть распечатаны на принтере в формат PDF, включая файлы DOC, PPT, TXT, HTML и многие другие. Еще вы сможете создавать PDF документы напрямую со сканера, позволяя без лишних усилий создавать электронные версии бумажных документов.
Сравнительная таблица версий программы Foxit Phantom PDF
Feature Comparison Sheet
Standard
Business
PDF Create and Convert
Create industry standard PDF files from virtually all PC applications, popular image formats, and the clipboard
+
+
Create ISO standard PDF/A files, and embed fonts
+
+
Create PDF from multiple files and file types, scanner, blank page
+
+
One-Step PDF Creation from Microsoft Word, Excel and PowerPoint
+
+
Convert PDF to Microsoft® Office, RTF, HTML, text, and image formats
+
+
PDF Viewing Features
Capable of viewing all PDF types
+
+
Validate digital signature
+
+
PDF/A validation
+
+
Compare documents
+
+
Read out loud
+
+
PDF Editing Features
Add, edit, delete and manage document hyperlinks and bookmarks, custom actions for bookmarks and hyperlinks, such as opening a file, playing a sound, going to a web page, etc.

+
+
Add, edit, delete and manage image and multimedia annotations
+
+
Add, edit, delete and manage header and footer, background, watermark
+
+
Add, edit, delete and manage text and path objects
+
+
Move, resize, rotate, cut, copy and paste graphic and image objects
+
+
Manage pages in a document (reorder, new, insert, extract, crop, rotate and delete pages), insert pages from scanner
+
+
Reorder pages from dropping and dragging thumbnail in page thumbnail panel
+
+
OCR text recognition to create searchable and selectable documents
+
+
PDF optimizer
+
+
Redaction
-
+
Advanced PDF editor
-
+
High compression when creating PDF from scanner
-
+
Bates Numbering
-
+
PDF Comment Features
Add, manage, view and navigate document comments
+
+
Familiar comment, markup tools (notes, text boxes, callouts, highlight, underline, strikeout, squiggly, cross-out, typewriter, Stamps, etc. ) and drawing tools (comment tools including lines, rectangles, pencil, oval, polygon, cloudy, arrow)
+
+
Measuring tool for distance, perimeter and area measuring
+
+
Attach a file as a comment
+
+
Organize and manage a library of stamps
+
+
Import/Export comments data and summarize comments
+
+
PDF Forms Features
Fill in and save forms, including XFA form

+
+
Import/Export form data, reset form fields
+
+
JavaScript support
+
+
Draw and edit form controls (text fields, buttons, drop-down lists, check boxes, radio buttons and digital signature fields)
+
+
Edit static XFA form
+
+
PDF Security Features
Add, edit, delete and manage passwords secure encryption and permission controls to PDF files
+
+
Add, edit, delete and manage digital signatures to PDF files
+
+
Add, edit, delete and manage security policies
+
+
Add, edit, delete and manage certification secure encryption and permission controls to PDF files
+
+
Certify document and set permitted actions after certifying
-
+
Microsoft® Active Directory® RMS protector
-
+
Изменения в программе Foxit Phantom PDF 7.1.0.0306 (09.03.2015):
New Feature
Scanned PDF Optimization
Reduces the file size of scanned PDFs before distributing or archiving to save transfer time and disk space.
PPDF (Pfile-based PDF) File Encryption (Business Only)
Supports using Microsoft IRM Protection for PDF Version 2 to encrypt PDFs and output the encrypted files in PPDF format.
Auto-straightens scanned PDF documents.
Allows users to link to a bookmark/specific page within a web pdf in a web browser using URL parameters.
Supports line spacing setting when designing text fields.
Provides printing templates when creating files to PDF and supports lossless compression.
Supports Greek language in OCR engines.
Supports adding bullet lists in Typewriter/Callout/Textbox/Note annotations and the availability of annotation rotation.
Improvements
Extends the Usage of GPO Templates
Supports more settings using the GPO templates, including forbidding all auto-connecting to server, setting to hide document message bar in preferences, and more.
Shared Review Enhancement
Allows configuration of the interval to check new comments during shared review and notifies users by flashing the PhantomPDF icon in the taskbar if any.
Supports to save custom colors in annotation properties and then all the annotations can share the custom colors.
Streamlines the workflow when scanning paper to PDF.
Optimizes the way to name form fields after running form field recognition.
Enhances the edit capabilities of scanned and OCRed PDF documents.
Shows the preview of ink signatures and stamps when the mouse cursor hovering over the document area after users select them.
Provides an option to apply a stamp to multiple pages.
Issues Addressed
Fixed an issue where users could not send RMS protected files for Shared Review. (Business only)
Fixed an issue where errors might occur when users tried to create reports twice after verifying compliance with PDF A/E/X.
Fixed an issue where the application interface became fuzzy in higher DPI.
Fixed a security issue where memory corruption may occur when converting a GIF file with an invalid value in Ubyte Size in its DataSubBlock Structure, which could lead to a controlled crash execution.
Конкурс: «Мобильный трейдинг с Калита-Финанс» на Андроиде!
Компания «Калита-Финанс» приглашает Вас принять участие в конкурсе и на практике оценить все преимущества новой мобильной версии торгового терминала iTrader 8 под ОС Android для заработка на онлайн бирже. Это прекрасная возможность увеличить эффективность и прибыльность Вашей торговли и заработать реальные деньги!
Победители получат реальный торговый счет на 3000 рублей! Подробнее>>>

---
Последние комментарии:
---
PHILATELIST.by
19-09-2013 15:03
Скачал, спасибо!
---
Azam Rakhmonov Akparovich
06-02-2011 10:13
эта самый хороший сайт скачать очень быстро, нет слов
---
Самые популярные

• Microsoft Office PowerPoint Viewer
• Microsoft Office Word Viewer
• Microsoft Office Excel Viewer
• PDF-XChange Viewer
• Notepad++
• Foxit Phantom PDF
• Foxit Reader
• LibreOffice
• Adobe Reader
• Apache OpenOffice
• Sumatra PDF
• STDU Viewer